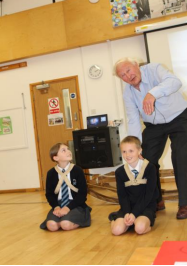 ANTARCTIC EXPLORER VISIT
As a wonderfully exciting end to our 'Poles' topic,
the year 5 and 6 children had the most incredible
opportunity to meet John Killingbeck. He is the
last living Englishman to have made his way
across Antarctica, being hauled by a pack of
dogs. He brought in his enormous sled among
other authentic props and shared his stories and
wisdom with us all. Thankyou John!